PDQ Vehicle Wash Systems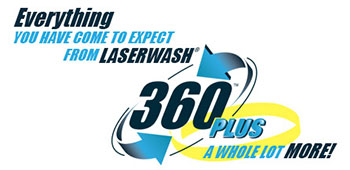 The newest LaserWash® in-bay automatic car wash raises the standard for touchless car wash equipment. With Revenue Enhancement and Total Cost of Ownership improvements being the main focus, this vehicle wash system delivers the industry's best Return on Investment. Smart 360™ Technology enables the car wash system to be responsive to the dynamic conditions in the wash bay and allows it to "think for itself", increasing up-time and optimizing the wash process.
Substantially faster wash speeds lead to increases in vehicle throughput and shorter lines that will make your customers happy. Simplified machine design and lower energy and utility usages reduce operating costs leading to a more profitable car wash operation.
For more information download the LaserWash PDF file

LaserWash AutoXpress
PDQ now offers an affordable automatic car wash designed exclusively for the auto dealer market incorporating the most advanced touch-free technology. The LaserWash® AutoXpress provides you and your customers with quick, exceptional cleaning that is unsurpassed by any other touch-free wash in the auto dealer industry.
Portwest Wash Systems offers a line of great products from PDQ Vehicle Wash Systems, and are the only dealer in BC offering their products.
Click below to check out the different types of wash systems they offer:
LaserWash 360™ – the newest touch free car wash equipment that "thinks for itself"
PDQ Tandem™ RiteTouch – incorporates both touch-free and friction wash equipment with minimum brush contact
PDQ MaxAir Dryers – breakthrough in dryer performance, because it dries vehicles better than ever, and uses less energy than conventional dryers.